Eugene Car Accident Lawyer
Margaret, Client
I was satisfied once John Bell took over my case.
Get results like this
The City of Eugene is in the center of Lane County. With Eugene being less than 50 miles from the Oregon Coast, many people travel through this area. The beauty of the neighboring Willamette National Forest, for one, brings tourists from all over.  
In 2018, Eugene, OR, recorded 171,245 residents, making it the second-largest city in the state. In the State of Oregon, in 2019, there were over 400 reported fatalities from car crashes. The most common causes of vehicle accidents in Oregon are speed and alcohol-related. Meanwhile, the number of drivers on Oregon roadways keeps increasing each year.
The rising number of drivers on the road only increases the risk of a potential car accident. If you or a loved one has been injured in a Eugene car accident, you need to hire a lawyer. Our Eugene, OR, car accident lawyers have the experience to work on your case while you and your family can focus on your recovery. You can rest assured knowing a team of lawyers is on your side. Contact us today at Bell Law Offices for a free consultation at (541) 255-4546.
Drivers fill out an accident statement report after having a parking lot accident.
Causes of Vehicle Crashes
There are an infinite number of reasons for a crash to happen. The following is a list of things that may cause you to crash.
Inclement weather
Distracted drivers
Driving aggressively
Failure to yield to merging traffic
Driving while tired
Driving while intoxicated or under the influence
Speeding or driving too slow
Road rage
Tailgating
Ignoring traffic signals
Not all vehicle accidents are the result of your own actions. More often than not, the fault lies with someone else for your injuries.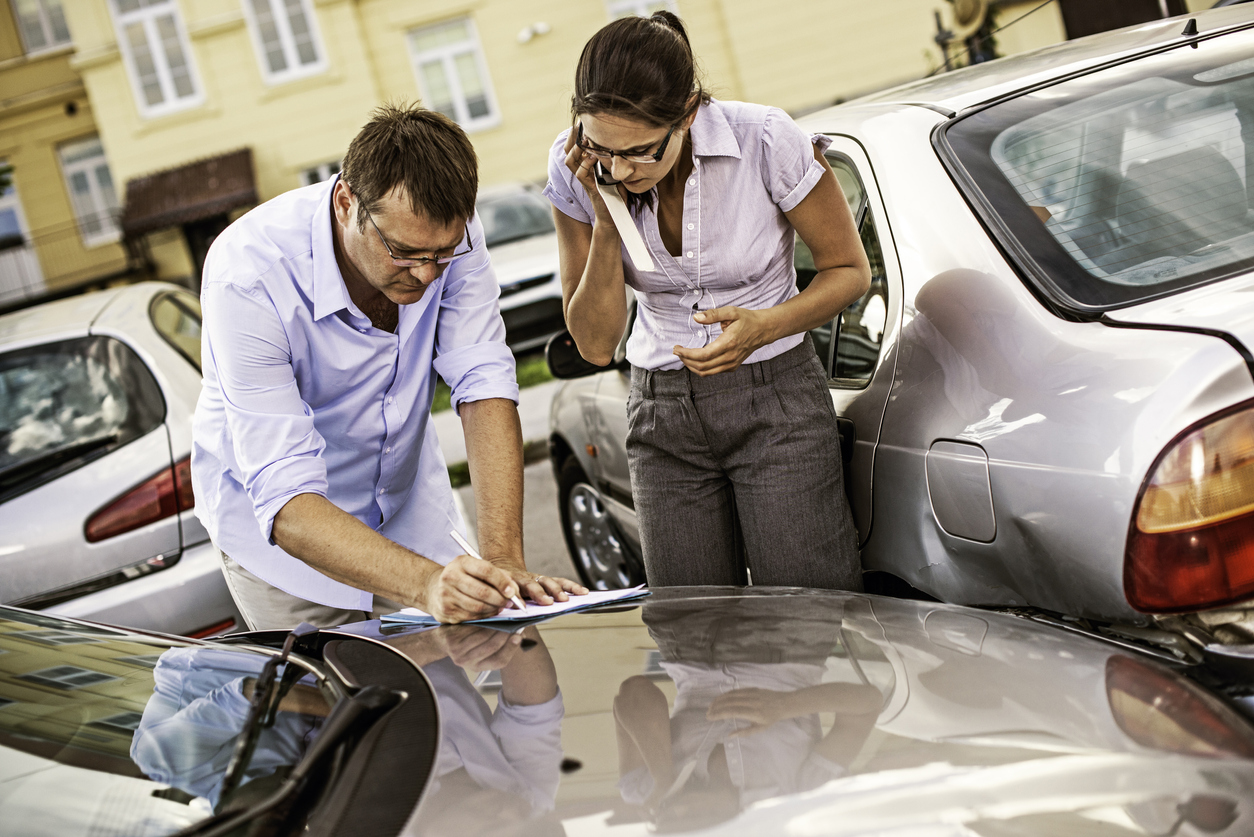 Schedule Your Free Consultation Today
How to Know If You Have an Auto Injury Claim?
After a vehicle crash, it can be overwhelming to decide what to do. After seeking medical attention, you must determine if you need a lawyer to file an auto injury claim. If you have been injured in an accident through no fault of your own, then someone else could be responsible for your medical bills, damages, and lost wages. An car accident attorney from our law firm can determine if the other party was negligent in his or her actions, causing you to be injured in a car accident, by assessing:
Type of accident, such as:

Head-on, t-bone, or sideswipe collision
Vehicle rollover
Multi-vehicle pile-up
Rear-end crashes

Type of vehicle accident:

Car or SUV accident
18-wheeler truck accident
Bus accident
Motorcycle accident

Nonfatal injuries received:

Neck injuries or whiplash
Back or disc injuries
Head trauma or broken bones

Potentially fatal injuries:

Brain injuries or coma
Spinal cord damage
Death
Call our team of Eugene car accident lawyers to intervene with the insurance company for you so that you can focus on your recovery.
When Accidents Results in Wrongful Death
It is bad enough to suffer personal injuries from a car accident. But it is even worse to lose a loved one because of another person's negligent actions. When you need justice for your loss, our lawyers can help you. 
Our lawyers can investigate to find proof of what caused your unfortunate loss to see if you have a valid wrongful death claim. If so, you can pursue damages for: 
Any related medical bills that incurred before your family member passed away 
Funeral and burial
Pain and suffering 
Loss of any future financial support 
Loss of companionship 
If you are a close relative of someone who lost his or her life in a Eugene car accident, you may have the right to take legal action. Call our toll-free number, (541) 255-4546, for a free case review with a car accident attorney to determine what legal steps you can take. 
How Will Hiring a Eugene Car Accidents Lawyer Benefit You?
After a car accident, the last thing you want to think about is dealing with the insurance companies and other legal issues that may arise. Most insurance companies will fight against your auto injury claim and try to get you to settle for less than you deserve. Their main concern is limiting payouts. 
Our Eugene, OR, team of lawyers is ready and willing to fight for your rights. Our representation will allow you the time you need to focus on recovery. The following is a short list of the benefits you can expect from hiring our legal team to represent you. 
Peace of mind – You will not have the added stress of dealing with insurance companies after suffering a severe injury or possibly a family member's death.
Professional negotiation – An experienced personal injury attorney from our law firm will have the negotiation skills you need to go against the opposing parties. Their insurance company is not concerned with the pain you've suffered, and neither do they work for you. Negotiating the amount of compensation you deserve is what our Eugene car accident attorneys do best. 
Aggressive representation – Many cases can be settled out of court. However, when a fair agreement cannot be reached, we do not back down. We are ready and able to take your case to trial when needed. 
When you hire us to represent your personal injury claim, you do not have to worry about a thing. We do the footwork for you. As your attorney, we will: 
Guide you through each step so that your focus is on your medical and physical recovery 
Explain your case and how the law works regarding your case 
Ensure your auto injury claim is filed within the statute of limitations required by Oregon 
Recover medical costs and lost wages
Seek pain and suffering damages when applicable
Obtain the documents and evidence needed to fight for your injury claim 
Speak with witnesses and determine if their testimony is helpful to your case 
Provide experts whose testimony can help win your auto injury settlement 
Contact us today to see how we can help you get the compensation you deserve.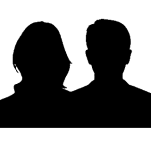 Client Success stories
"John Bell listened well and returned phone calls promptly. Communication was always timely. We have already recommended his services to others."
– Greg and Sue, Coos Bay
What is the Average Settlement for Car Accidents in Eugene, OR?
The average settlement for a car accident varies depending on the extent of the damages. The insurance settlement is typically determined by evaluating the severity of your injuries, total medical expenses, and the cost to replace your car and any other damaged personal property. 
To ensure you get the best settlement for your claim, you should remain at the scene of the accident, file a police report, gather evidence if possible, obtain witnesses' information, and keep a detailed record of expenses as your recovery progresses. Provide all this information to your personal injury lawyer. 
Your accident attorney can also help with this process and will use your medical documents, medical expenses, expert testimony, and pictures of your injuries to battle the insurance company. When uncertain how long your recovery will last or how many medical fees you will incur, it is vital that you do not accept an insurance agent's offer right away or without professional advice.
Explaining No-Fault Car Accidents and Comparative Negligence
Oregon is a no-fault state, which means, in many cases, your worries may be lessened regarding lost wages and medical costs or to replace your vehicle. Under the state's no-fault law, insurance companies are required to pay up to $15,000 in PIP (Personal Injury Protection) a year for your medical expenses, regardless of who was at fault. However, being a no-fault state does not mean you cannot file an auto injury claim against a negligent driver. 
Comparative negligence is when your lawyer can prove the other driver's negligence was more significant than your own. This is based on a percentage of fault. There are two types of comparative negligence; pure and modified. 
Oregon has a comparative negligence law in place. Thus, in this state, you can recover damages if you are under 51 percent at fault.
The lawyers at Bell Law Offices have years of experience in helping our clients win the maximum compensation they deserve despite case complications. What's more, we are dedicated to putting your first and helping you get the maximum compensation you deserve. We want you to be able to concentrate on your healing and well-being.
When You Need a Car Accident Lawyer Serving Eugene, OR – We Are Here
While we cannot prevent accidents from happening, we can make sure that you get the best representation possible. Our law firm has experience in motor vehicle accidents and is ready to put our knowledge to work to help you get your life back on track. 
Don't worry about your rights or legal fees. We take that burden off of your shoulders by first of all providing a free initial claim evaluation to anyone without obligation. During this evaluation, we will help you understand what to expect and the next steps to take. And when we do take on your case, you don't have to worry about owing us anything out of pocket.
When you need a lawyer with the necessary expertise to help you get the maximum settlement – call us today at (541) 255-4546 to speak with a qualified personal injury lawyer.
Expert Advise.
Skilled Representation.
Maximum Benefit.
Our clients Say it the best
Mary, Client

★★★★★

"This was a very difficult time for me and the office was extremely supportive and helpful."
Greg and Sue, Clients

★★★★★

"John Bell listened well and returned phone calls promptly. Communication was always timely. We have already recommended his services to others."
Margaret, Client

★★★★★

"I was satisfied once John Bell took over my case. He promptly returned my calls and was very friendly, efficient, and courteous."
Ron and Ranay, Clients

★★★★★

"We give the highest rating for service and professionalism. John helped us through the tough times and always put us at ease."